Young Pen Pals Club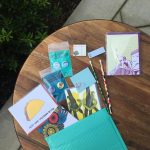 Thank you to all who participated in the latest cycle of the Ivy's Young Pen Pals Club, from Jan-March 2021! We are on brief hiatus, but stay tuned for the next round.
All subscribers to the Young Pen Pals Club receive one package a month with beautiful new stationery and stamps, and an introduction to a new pen pal.
Designed for ages 7-14, we hope that the Young Pen Pals Club provides an opportunity for young people to connect with one another at a time when schools and other activities are "distant." Just like holding a real book, there's something timeless about the excitement of writing and receiving real, handwritten letters.
Pricing: $55 (curbside pickup at The Ivy, 5928 Falls Rd); $79 (priority shipping). Sponsored slots available. Just note on the sign up form if this would help you access the program.
| Image | Name | Book Author | Description | Price | Buy | price_hsort |
| --- | --- | --- | --- | --- | --- | --- |